Issue 1: Contents
Contents: Pg. 1 - Wikilodeon Spokesperson Macy Jingle Talks Confidence
Pg. 2 - Fashion Statements for Cheap
Pg. 3 - The Latest, from one of thr Directors of Movies: Heather Blast
Pg. 4 - Casual and Cute Summer Hair
Pg.5 - New Music
Pg. 6 - Last Page

Wikilodeon Superstar!
---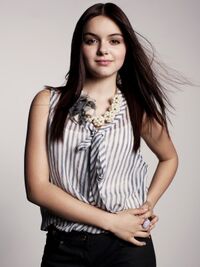 Macy Jingle, Inspiration for Young Girls. Macy Jingle is a new actress to Lodeon. She is a bit of a feminist, and encourages young girls everywhere to accept and embrace how they are. When asked where she gets her confidence from, this is what she said. "Well, my mother and I are both pretty confident of ourselves. I've always had this confidence from my mother. Some of my friends are a bit insecure, and the things I told them also helps me out as well." There you have it, folks. Macy Jingle shares her confidence with others, and gains some in return. She is a kind young girl who is on the right path to her career. She says that she might be starting a music career, so stay tuned for that later on.

'
Justin Fashions'
---
Justin Clothing is a very popular girls' clothing brand! They have the most adorable clothing! They have shorts, jeans, skirts, tanks, ect. The shirts are hilarious and have a lot of humor. If you need an outfit for anything, Justin has it! They have everything, dresses for a dinner, jogging pants for a run, shorts for your basketball practice, and even bathing suits for your swim meet! Come shop at Justin, and you won't regret it! (6/22/14) ~FashionGal

Ad blocker interference detected!
Wikia is a free-to-use site that makes money from advertising. We have a modified experience for viewers using ad blockers

Wikia is not accessible if you've made further modifications. Remove the custom ad blocker rule(s) and the page will load as expected.